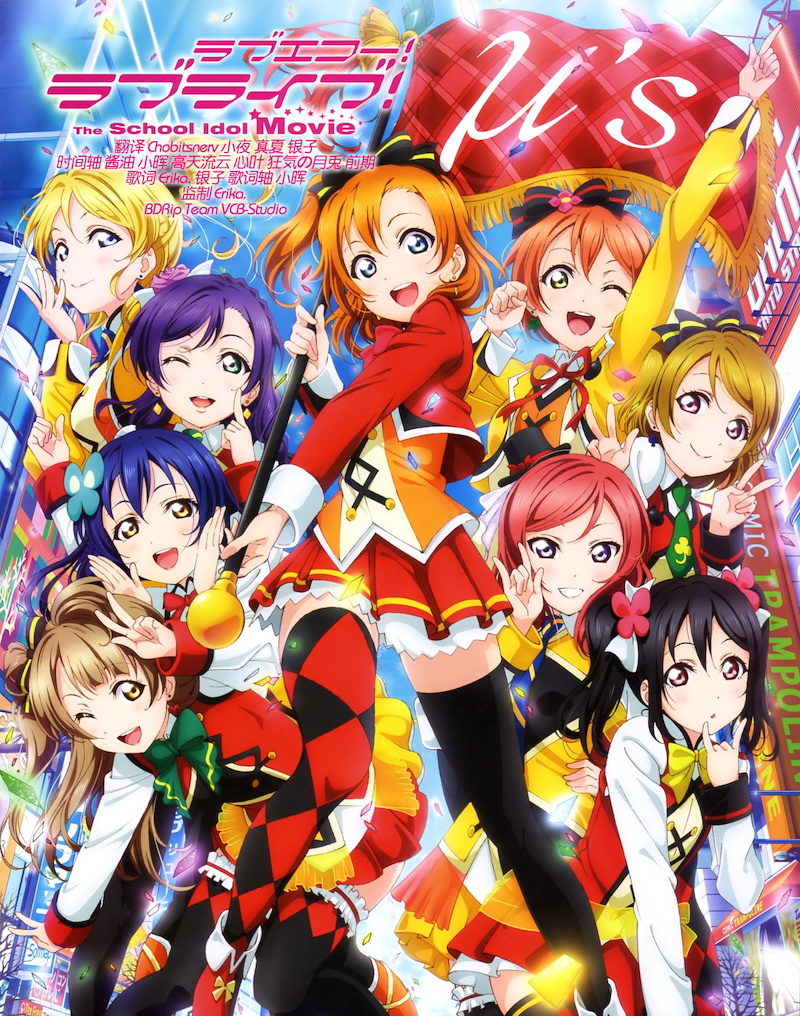 Love Live! 学园偶像剧场版 BDRip
Lovelive! The School Idol Movie BDRip
ラブライブ!劇場版 BDRip
10-bit 1080p HEVC + FLAC,MKV 格式。约 3.5 GB。
内封原盘 ENG 字幕。
内封 2.0 声道主音轨,外挂 FLAC 5.1 声道音轨。

这个项目与 LoveEcho! 合作,感谢他们精心制作的中英简繁字幕。
This project is in cooperation with LoveEcho!. Thanks to them for elaborating English and Chinese subtitles.

LL剧场版的画风和后期性质与第二季度一致,都是属于预算满满,良心十足的画面。所以处理上沿用之前的做法,不做太多调整,更多侧重于高还原度和体积控制。 The BD source share the same quality metric as LL 2nd season, so we used similar methods as did previously. The blu-ray sources are nearly perfect with little artifacts, so we focused on testing the x265 parameters in order to retain a high quality with controlled bit-rate.

---
重发修正:
1. 加入 SP6 中修正的字幕文件;
2. 修改部分 CD 命名以及扫图命名;
3. 修改外挂音轨格式;
4. 修改部分特典命名;
5. 修正部分特典音轨;
6. 删除字幕中的无用信息。

Reseed comment:
1. Added fixed subtitle files from SP6;
2. Renamed some CDs and Scans;
3. Converted the format of external audio track;
4. Renamed some SPs;
5. Fixed some audio tracks in SPs;
6. Removed Aegisub Project Garbage.


---
感谢所有参与制作者 / Thank to our participating members:
整理 / Collate:Azure
复查 / QC:Enola
发布 / Upload:神楽坂真羽
分流 / Seed:VCB-Studio CDN 分流成员(详细名单见主站)

---
这份发布来自 VCB-Studio 每月老番重发计划。
我们计划在每月月中和月末,重发 VCB-Studio 曾经发布过的合集。选择的合集有这些特点:
1. 发布已久,公网已经或者几乎断种;
2. 存在制作错误或疏漏,尤其当存在补丁包修正;
3. 之前的发布为分卷或分季,适合补充一个系列合集。
2021 年 03 月,月初


---
基础播放器教程: PotPlayer / MPC-HC / IINA
进阶播放器教程: madVR / PotPlayer+madVR / mpv
中文字幕分享区: VCB-Studio 分享论坛(请善用搜索)
项目计划与列表: VCB-Studio 项目列表(每月初更新)
文件信息 | 下载本资源
文件总数:197,文件总大小:15.6GB
Info Hash:cfc1002263ad7dff12b131b90ce3379c384a77ef
文件信息:197 个文件, 总大小 15.6GB
Tracker:http://tracker.xfapi.top:6868/announce
Tracker:http://tracker.xfapi.top:6868/scrape
[LoveEcho!&VCB-Studio] Love Live! The School Idol Movie [Ma10p_1080p]

CDs

[150523] 「MUSEUMでどうしたい?」/Printemps (flac+jpg)

Scans

01.jpg

(652.7KB)

02.jpg

(2.2MB)

Cover.jpg

(227.5KB)

LZM-2126.cue

(329Bytes)

LZM-2126.flac

(69.2MB)

[150523] 「乙姫心で恋宮殿」/lily white (flac+jpg)

Scans

01.jpg

(544.1KB)

02.jpg

(2.3MB)

Cover.jpg

(212KB)

LZM-2128.cue

(313Bytes)

LZM-2128.flac

(76.3MB)

[150523] 「最低で最高のParadiso」/BiBi (flac+jpg)

Scans

01.jpg

(573.4KB)

02.jpg

(2.5MB)

Cover.jpg

(193.2KB)

LZM-2127.cue

(316Bytes)

LZM-2127.flac

(71.2MB)

[150527] ラブライブ! μ's Best Album Best Live! Collection II (flac+jpg)

Scans

01.jpg

(2.5MB)

02.jpg

(2.8MB)

03.jpg

(2.6MB)

04.jpg

(1.8MB)

05.jpg

(1.8MB)

06.jpg

(2.1MB)

07.jpg

(2MB)

08.jpg

(1.3MB)

09.jpg

(1.4MB)

10.jpg

(1.8MB)

11.jpg

(1.3MB)

12.jpg

(1.2MB)

13.jpg

(1.2MB)

14.jpg

(1.1MB)

15.jpg

(1.3MB)

16.jpg

(1MB)

17.jpg

(1.1MB)

18.jpg

(1.1MB)

19.jpg

(1.3MB)

20.jpg

(1.3MB)

21.jpg

(1.2MB)

22.jpg

(1.3MB)

23.jpg

(1.1MB)

24.jpg

(1.1MB)

25.jpg

(1.3MB)

26.jpg

(1.3MB)

27.jpg

(1.1MB)

28.jpg

(1MB)

29.jpg

(1.3MB)

30.jpg

(2MB)

31.jpg

(256.3KB)

32.jpg

(862.2KB)

33.jpg

(856.9KB)

34.jpg

(888.7KB)

Cover.jpg

(225.3KB)

LACA-39393.cue

(2.4KB)

LACA-39393.flac

(537.7MB)

LACA-39393.log

(3.1KB)

LACA-39394.cue

(2.4KB)

LACA-39394.flac

(585.4MB)

LACA-39394.log

(3.1KB)

LACA-39395.cue

(2.4KB)

LACA-39395.flac

(502.8MB)

LACA-39395.log

(2.9KB)

[150701] 「Angelic Angel/Hello,星を数えて」/μ's (flac+jpg)

Scans

LACM-14361_01.jpg

(271.2KB)

LACM-14361_02.jpg

(225.9KB)

LACM-14361_03.jpg

(1.3MB)

LACM-14361_04.jpg

(961.7KB)

LACM-14361_05.jpg

(459.1KB)

LACM-14361_06.jpg

(915KB)

LACM-14361_07.jpg

(905.1KB)

Cover.jpg

(626.3KB)

LACM-14361.cue

(924Bytes)

LACM-14361.flac

(141.7MB)

LACM-14361.log

(2.2KB)

[150708] 「SUNNY DAY SONG/?←HEARTBEAT」/μ's (flac+jpg)

Scans

LACM-14362_01.jpg

(348.3KB)

LACM-14362_02.jpg

(362.7KB)

LACM-14362_03.jpg

(1.1MB)

LACM-14362_04.jpg

(1.1MB)

LACM-14362_05.jpg

(700.3KB)

LACM-14362_06.jpg

(750.2KB)

LACM-14362_07.jpg

(1MB)

LACM-14362_08.jpg

(458.8KB)

LACM-14362_09.jpg

(350.4KB)

Cover.jpg

(279.6KB)

LACM-14362.cue

(920Bytes)

LACM-14362.flac

(129.7MB)

LACM-14362.log

(2.3KB)

[150715] 「僕たちはひとつの光/Future style」/μ's (flac+jpg)

Scans

LACM-14363_01.jpg

(306.5KB)

LACM-14363_02.jpg

(181KB)

LACM-14363_03.jpg

(1MB)

LACM-14363_04.jpg

(853.7KB)

LACM-14363_05.jpg

(413.8KB)

LACM-14363_06.jpg

(759.3KB)

LACM-14363_07.jpg

(490.3KB)

LACM-14363_08.jpg

(292KB)

LACM-14363_09.jpg

(284.8KB)

Cover.jpg

(520.9KB)

LACM-14363.cue

(956Bytes)

LACM-14363.flac

(151.4MB)

LACM-14363.log

(2.2KB)

[150805] オリジナルサウンドトラック Notes of School Idol Days ~Curtain Call~ (flac)

Cover.jpg

(215.8KB)

LACA-15498.cue

(4.9KB)

LACA-15498.flac

(334MB)

[151215] SPCD (flac)

BCXA-1025.cue

(419Bytes)

BCXA-1025.flac

(71.6MB)

BCXA-1025.log

(1.4KB)

SPs

[LoveEcho!&VCB-Studio] Love Live! The School Idol Movie [CM01][Ma10p_1080p][x265_flac].mkv

(30.3MB)

[LoveEcho!&VCB-Studio] Love Live! The School Idol Movie [CM02][Ma10p_1080p][x265_flac].mkv

(54.4MB)

[LoveEcho!&VCB-Studio] Love Live! The School Idol Movie [CM03][Ma10p_1080p][x265_flac].mkv

(12.2MB)

[LoveEcho!&VCB-Studio] Love Live! The School Idol Movie [CM04][Ma10p_1080p][x265_flac].mkv

(22.8MB)

[LoveEcho!&VCB-Studio] Love Live! The School Idol Movie [Hint][Ma10p_1080p][x265_flac].mkv

(3MB)

[LoveEcho!&VCB-Studio] Love Live! The School Idol Movie [Intermission Video][Ma10p_1080p][x265_flac].mkv

(91.5MB)

[LoveEcho!&VCB-Studio] Love Live! The School Idol Movie [Menu][Ma10p_1080p][x265_flac].mkv

(62.5MB)

[LoveEcho!&VCB-Studio] Love Live! The School Idol Movie [Menu_SP][Ma10p_1080p][x265_flac].mkv

(14.4MB)

[LoveEcho!&VCB-Studio] Love Live! The School Idol Movie [Mini Drama(BiBi)][Ma10p_1080p][x265_flac].ass

(3.1KB)

[LoveEcho!&VCB-Studio] Love Live! The School Idol Movie [Mini Drama(BiBi)][Ma10p_1080p][x265_flac].mkv

(40MB)

[LoveEcho!&VCB-Studio] Love Live! The School Idol Movie [Mini Drama(lily white)][Ma10p_1080p][x265_flac].ass

(3.2KB)

[LoveEcho!&VCB-Studio] Love Live! The School Idol Movie [Mini Drama(lily white)][Ma10p_1080p][x265_flac].mkv

(33.3MB)

[LoveEcho!&VCB-Studio] Love Live! The School Idol Movie [Mini Drama(Printemps)][Ma10p_1080p][x265_flac].ass

(3.1KB)

[LoveEcho!&VCB-Studio] Love Live! The School Idol Movie [Mini Drama(Printemps)][Ma10p_1080p][x265_flac].mkv

(21.2MB)

[LoveEcho!&VCB-Studio] Love Live! The School Idol Movie [Mini Drama(μ's)][Ma10p_1080p][x265_flac].ass

(3.8KB)

[LoveEcho!&VCB-Studio] Love Live! The School Idol Movie [Mini Drama(μ's)][Ma10p_1080p][x265_flac].mkv

(34.9MB)

[LoveEcho!&VCB-Studio] Love Live! The School Idol Movie [NCED][Ma10p_1080p][x265_flac].mkv

(330.6MB)

[LoveEcho!&VCB-Studio] Love Live! The School Idol Movie [PV01][Ma10p_1080p][x265_flac].mkv

(36.1MB)

[LoveEcho!&VCB-Studio] Love Live! The School Idol Movie [PV02][Ma10p_1080p][x265_flac].mkv

(81.9MB)

[LoveEcho!&VCB-Studio] Love Live! The School Idol Movie [PV03][Ma10p_1080p][x265_flac].mkv

(80MB)

[LoveEcho!&VCB-Studio] Love Live! The School Idol Movie [μ's Fan Meeting Tour 2015 01][Ma10p_1080p][x265_aac].mkv

(3.4GB)

[LoveEcho!&VCB-Studio] Love Live! The School Idol Movie [μ's Fan Meeting Tour 2015 02][Ma10p_1080p][x265_aac].mkv

(2.8GB)

Scans

01.jpg

(3.6MB)

02.jpg

(3.8MB)

03.jpg

(4.1MB)

04.jpg

(4.2MB)

05.jpg

(2MB)

06.jpg

(2.6MB)

07.jpg

(1.5MB)

08.jpg

(1.4MB)

09.jpg

(2.1MB)

10.jpg

(701.4KB)

11.jpg

(1.6MB)

12.jpg

(6MB)

13.jpg

(6.1MB)

14.jpg

(10.6MB)

15.jpg

(10.3MB)

16.jpg

(3MB)

17.jpg

(3.9MB)

18.jpg

(6MB)

19.jpg

(6.1MB)

20.jpg

(6.1MB)

21.jpg

(6.2MB)

22.jpg

(6.6MB)

23.jpg

(5.9MB)

24.jpg

(5.5MB)

25.jpg

(3.1MB)

26.jpg

(6.3MB)

27.jpg

(3MB)

28.jpg

(3.1MB)

29.jpg

(2.8MB)

30.jpg

(2.4MB)

31.jpg

(6.1MB)

32.jpg

(1.5MB)

33.jpg

(523.2KB)

34.jpg

(2.2MB)

35.jpg

(1.9MB)

36.jpg

(4.6MB)

37.jpg

(1.8MB)

38.jpg

(2.7MB)

39.jpg

(1.4MB)

40.jpg

(1.2MB)

41.jpg

(992.2KB)

42.jpg

(1.2MB)

43.jpg

(3.3MB)

44.jpg

(969.7KB)

45.jpg

(1.3MB)

46.jpg

(1.4MB)

47.jpg

(1.3MB)

48.jpg

(3.4MB)

51.jpg

(3.8MB)

52.jpg

(5.7MB)

53.jpg

(3.6MB)

54.jpg

(3.2MB)

55.jpg

(3.7MB)

56.jpg

(3.4MB)

57.jpg

(3.9MB)

58.jpg

(3.3MB)

59.jpg

(3.8MB)

60.jpg

(3.3MB)

61.jpg

(3.7MB)

62.jpg

(3.3MB)

63.jpg

(5.9MB)

64.jpg

(3.3MB)

65.jpg

(3.2MB)

66.jpg

(2.8MB)

67.jpg

(5.2MB)

68.jpg

(3.4MB)

69.jpg

(3.3MB)

70.jpg

(3.6MB)

[LoveEcho!&VCB-Studio] Love Live! The School Idol Movie [Fonts].rar

(4.7MB)

[LoveEcho!&VCB-Studio] Love Live! The School Idol Movie [Ma10p_1080p][x265_flac].mka

(2.1GB)

[LoveEcho!&VCB-Studio] Love Live! The School Idol Movie [Ma10p_1080p][x265_flac].mkv

(3.5GB)

[LoveEcho!&VCB-Studio] Love Live! The School Idol Movie [Ma10p_1080p][x265_flac].sc.ass

(256.1KB)

[LoveEcho!&VCB-Studio] Love Live! The School Idol Movie [Ma10p_1080p][x265_flac].tc.ass

(256.1KB)